Digitization and Revenue Streams for Tower Companies
Telcos have owned towers as part of their network infrastructure to deliver telecom services to customers. It has been the trend for decades however, stabilizing revenue growths and industry movements have introduced the need to reduce cost and expenses, the efficiency improvement and quicker deployments have pushed telcos to work on the strategy of divestment for their tower infra, which has resulted in the establishment of the Tower Companies.
Conceptually, the conventional Towerco business model is straightforward. They acquire telecom infra- assets from CSPs and then lease them back to the CSPs with multi-year agreements. These agreements can vary in terms of O&M services, renting the space, and co-locating the tower for multiple operators. Towercos have their monitoring control systems and maintenance tools for managing the tasks. Such a model helps CSPs to move from Capex intensive model to Opex focused and provides a revenue stream to towercos, resulting in a mutually beneficial strategy.
Different kind of tower companies: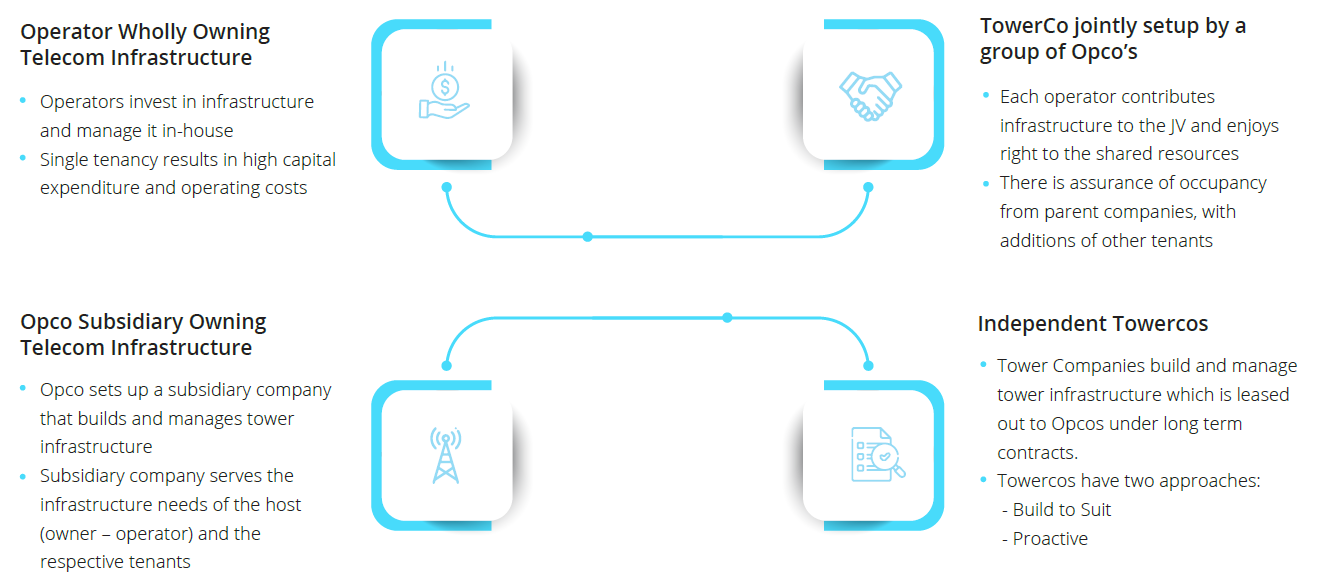 Digitization need:
In principle, Towercos are managing passive infrastructure however with changing digital environment and to deal with increasing market pressure, 5G rollout, new network technologies, and new business models, towercos also need to undergo a paradigm shift to modify their business strategy. Towercos need to act quickly towards digital transformation for their business to grow and sustain; and it will make them open to new revenue streams too. They will have to be more data-driven, include analytics and the use of the latest technologies to stand out in the competitive landscape.
Telcos have developed solutions encompassing data-driven business intelligence (BI) and Artificial Intelligence (AI) through machine learning. The towerco industry is still far behind in this area and still leveraging the legacy tools and manual efforts owing to their focus on increasing the tenancy ratio. Towercos need to build a proper data strategy and invest in data collection and data analytics to track detailed and accurate data about their infrastructure and enable decisions based on data intelligence. These are the primary steps for digitizing the foundation of a towerco business.
The digitization strategy should focus on 4 pillars:
Accurate data collection, with the use of a connected IoT platform that reduces physical site visits and ensures updated information such as location, faults are identified remotely.
Integrated asset's view, with the help of integrated platform providing the E2E view of assets including financial, project and network data, towercos can focus on critical areas and build cost optimization techniques.
Use of ML models, using data-driven machine learning models for predictive maintenance, fault localization can improve the quality of services from towercos.
Digital Twin: Digital Twins add value to the enterprise by:

Predicting "what is likely to happen" from "what has happened".
Serving as a knowledge management framework.
Aspiring for strong interrogative (past) and superlative prediction (future) capabilities.
Digitization:
Based on Digital twin concept and integrated platform for E2E view of tower assets & deployments.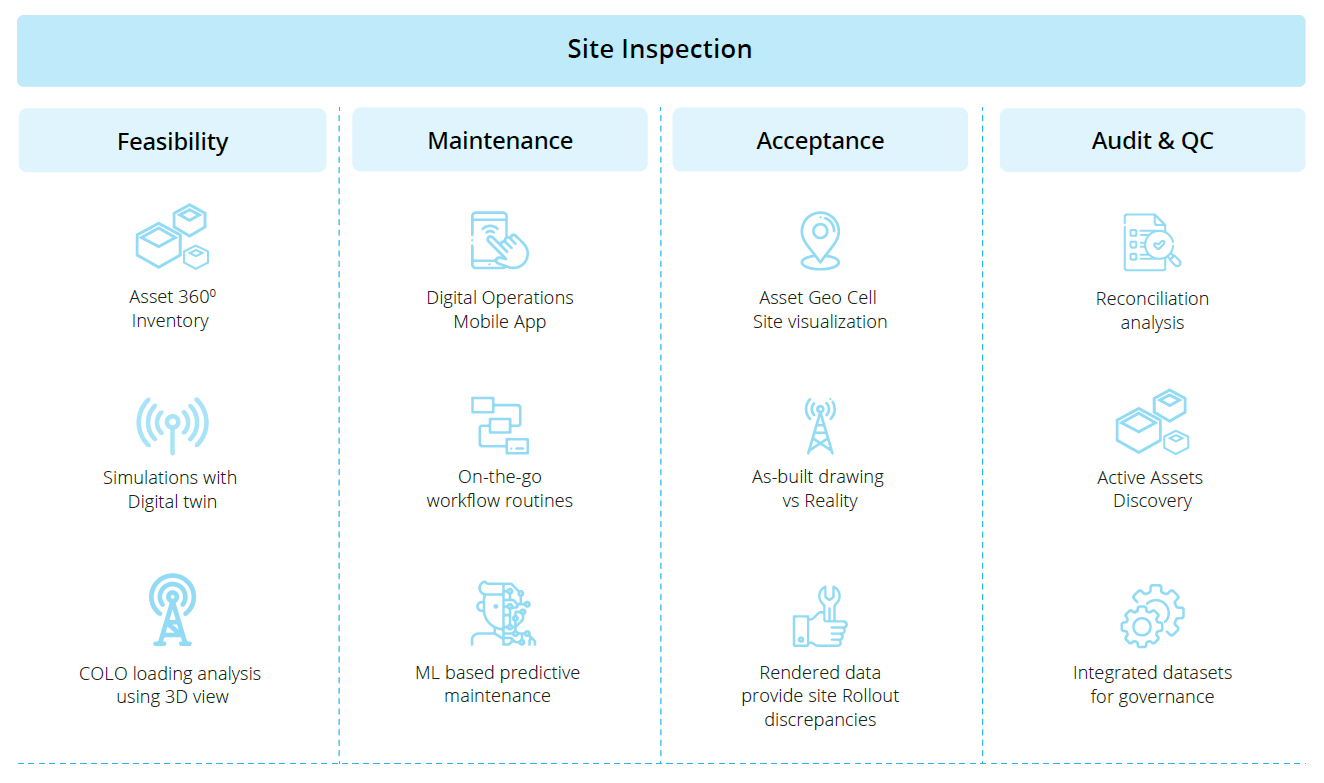 All relevant information for the site available in an integrated platform with updated data (Asset 360-degree view).
Scheduled maintenance visits can be optimized using a virtual replica of assets (status, location, GIS data, etc).
Digital view of site avoids multiple visits to the site for rollout, validate drawing with reality, simulate loading for co-location sites, and compare digital twin with the planned site for acceptance.
With digital twins, the physical properties and data from the sensors and operating environment, are being combined with sophisticated prediction algorithms.
Examples for such prediction/ analysis are:
Structural analysis.
Vibration analysis.
RF band mapping on each site based on info available.
Simulations are more effective combining digital twin and historical data; it provides effective and more accurate predictions. The drill-down mechanism helps to understand the RCA for any fault that is recurring frequently and unable to be identified. A digital twin is enabled with IoT sensors and enriched data sets.
Towercos need to incorporate modernization in their approach, moving away from the legacy business model of site leasing.
New Revenue Streams for Towercos:
1. ESCO – New business area for Towerco.
ESCO is defined as an energy services company, that invests capital to acquire energy equipment for telecom cell sites, then sells that energy back to the site owner, whether they are an MNO or a towerco. There are various energy models ranging from pure power-grid-based to a hybrid model of using green energy from solar cells, wind turbines, etc. The ESCOs operate on different models depending on the geography and scale of sites. In most scenarios, they charge a fixed fee per month or even usage-based charges. Recently, some of these have partnered with CSPs to operate in managed services model where they ensure uptime of their active assets and have a percentage of revenue share or even guaranteed savings model.
2.  Renting the space to surveillance companies for installing cameras for traffic monitoring, video surveillance, etc.
In today's connected era, monitoring traffic and other surveillance tasks play a major role. However, in most cases, getting an appropriate spot to install such devices for monitoring becomes a challenge. Using video surveillance for real-time traffic, weather forecast, congestion control, vandalism, etc are few use-cases. The traffic patterns can even be used for future study and observation or issuing challans/ tickets for violations. For the same, installing cameras or such devices should have sufficient visibility and a clear line of sight, along with a larger area to cover. Telecom towers provide such location which can be rented to regulatory bodies, agencies or even security services in some places.
3. Providing the space for advertisements by camouflaging the infra.
Do you remember when the Eiffel tower displayed the largest ever advertisement for Citreon in 1925? Telecom towers are huge structures that are visible from far-off and can be easily noticed by a passer-by. They can serve as one of the good sources for advertisement if used in an aesthetic manner. Monopoles, small cells, and even towers can be camouflaged with a nice cover, and they can be used for advertising by media companies. This can provide a very good source of revenue to towercos. Such places attract a lot of views and generate potential customers for the advertiser.
4. High data speeds will require fiber-based connectivity, and this can be owned by towerco to generated additional revenue by sharing resources.
With the advancement of 5G, every telco is focusing on having low latency use-cases with URLLC. This can not be achieved with a traditional transmission network and operators are focusing on fibre networks for the same. Towercos can play a vital role here by providing this connectivity layer and laying the fibre cables. Also, with the space they possess, it can act as amplifying spots, routing areas, or hubs for any fiber planning. They can generate revenue by sharing the fibre infra with multiple operators to serve as a common backbone network.
The best asset management solutions in the market could be found among the leading analytics companies in the telecom sector. They apply their broad experience to digitize telecom sites providing tools like an end-to- end asset management solution, introducing digital twin, creating a virtual site as a service image of the physical site including all the data about the site and its assets. The tower, the site, the small cells become the digital assets of the towerco/ CSPs and provide a layer of analytics to enable accurate decision-making.
In summary, it is time for towercos to act on their digitization strategy, build innovative use-cases and bring new solutions to the market that implement the latest technologies, artificial intelligence, and digitization enablement shared above. A few of those streams will become the new business models for the digital towerco that will result in building new revenue streams and increasing the value of towercos in the telecom industry.
Meanwhile, if you're interested to read about Digital Trust, you'll find some useful material here.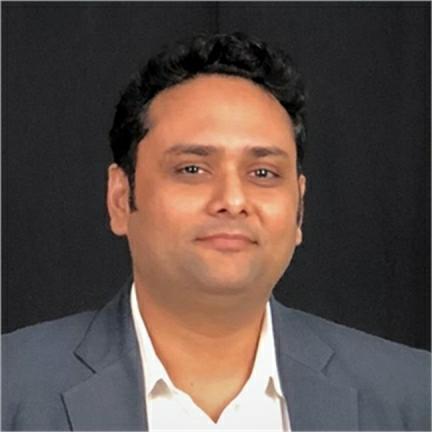 Deepal Jain is Director in Subex's Business & Solutions Consulting vertical responsible for APAC, MENA, and Africa regions. He has over 16+ years of experience in solution consulting within the telecom industry with a key focus on OSS solutions, Asset Lifecycle Management, Service Assurance, Discovery solutions, Contract lifecycle, Capacity management & IoT use-cases. He is also part of the advisory board for a non-profit organization that focuses on social entrepreneurship.