The changing business model of Assurance
It's been more than a year since I have even looked at my phone bill, lying in my inbox, marked as read, never to be opened. Bundle of services packaged under a single price, only to change by a small margin when India moved to a single Goods & Services Tax framework.
This is the new world of telecommunication. Select services of your liking, planned well like mine is, you would rarely be looking into your bills, scrutinizing itemized lines and stressing about your usage with  customer care.
In a recent survey of complaints received at the CCTS (Commission for Complaints about Telecom-Television Services, Canada) while incorrect charging complaints increased by 71% Y/Y, complaints on changes to contracts increased by over 200% Y/Y.
This trend is one of the key indicators of the change that is emerging in the space of assurance. The others being the steady and continuous interest in mitigation of risks within the partner ecosystem primarily related to contracts, margin, partner invoices, and inventory.
What's Changing?
Today with telcos moving into the domain of content providers with offerings of entertainment streaming, current affairs consumption, shopping, and many more options. All these services are bundled into a highly configurable plan that has an "all you can eat" approach as long as it is within the "Fair usage policy" means for a telco subscription, services, on-boarding, customer intelligence, and QoS are the critical assurance parameters from a retail point of view.
However, the change being addressed has a pivotal impact from a B2B perspective from the massive complexity of the partner ecosystem.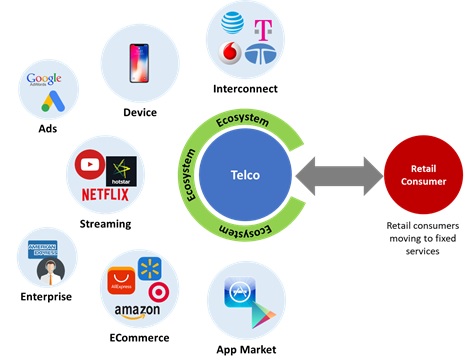 Today for a partner ecosystem the risk universe includes devices, direct carrier billing, partner credibility, partner & product margins, pay-in & pay-outs, revenue sharing, contract alignment and many more which needs to be monitored & actioned on at near real time.
Furthermore, we are not talking just about revenues but also costs and liabilities. So, the new business model of assurance, which we are referring to as "Business Assurance."
"Assurance is becoming a source of competitive advantage."
Business Assurance is not just a methodology but a major transformation in practice & technology. The new Business Assurance solution will need to:
Own and maintain the system that measures data quality
Own and maintain the business anomaly detection engines
Manage & drive business intelligence & insights
Measure and anticipate the impact of changes or offerings on customers
Monitor the content & partner environment for business feasibility and continuance
Gain a comprehensive understanding of revenue & cost breakdown in the organization
Help in assuring the "business model" itself, as opposed to a line of business
In short Business Assurance is the new Revenue Assurance. It is not a question of if this transformation will happen but when will it happen? If it hasn't yet started, it will.
Srikanth is a Senior Consultant in Subex's Business & Solutions Consulting vertical, focusing on Emerging Markets. He has over 9+ years of experience in consulting and advisory in the telecom industry with key focus on Revenue & Cost Assurance, Information Security, Governance Risk and Compliance. His client portfolio includes Aircel, MTNL, Tata Communications, Videocon, DST and PGi in APAC; STC, MTN, BTC in EMEA; Verizon, XO, Fairpoint and AT&T in NA.