Revenue Maximization in Insurance
The Insurance space has become competitive globally because of emergence of new direct players and online aggregators. Technology is being used at a rapid scale to bring down costs associated with selling policies and settling claims. Margins have been under pressure because of Increased transparency of premiums between competitors to customers.
Using analytics has become increasingly important to gain and retain market share for companies. Analytics helps in building focused strategies around customer retention, acquisition and managing churn.
Customer Acquisition
Customer Acquisition is the primary driver of growth in any Organization. In Insurance, this is a three-step process
Identification Of Potential Customers
Requirement Understanding
Risk assessment
Insurance companies need to identify potential customers for different product segments. Analytics can be used to determine which of the potential customers have a higher probability of buying the product. This can be based on customers' buying pattern and demographics. This helps marketing and sales team to maximize ROI and improve their hit ratios.
Customer Retention
When it comes to customer retention, it is important to Identify what kind of customer needs to be retained. Insurers cannot and should not try to retain all existing customers as not all customers are profitable. There are a host of factors that can be considered before prioritizing customers who are at the risk of churn. These factors could include
Risk Profile
Number of policies/dependents
Number of addon products
Affordability score
Value segments
Customer acquisition can be quite expensive with a very low probability of success and therefore more resources should be dedicated to customer retention.
 Cross Selling and Upselling 
One of the most effective ways to retain customers is to cross sell and upselling customers with new products. When a customer uses multiple products from the same Insurance company, it is much harder to switch to a different provider. Cross selling and up selling also enables Insurance providers to develop a long term and mutually beneficial relationship. Not all customers would be interested in purchasing all the products available from a provider. Insurance providers must tie the products to the customer's life stage and needs. They should also try to cross sell products which compliments their existing products.
Our Approach
We at Subex came up with an automated analytics solution named "Campaign Intelligence" for one of our clients in Insurance domain that helps in creating campaigns for Customer acquisition, Retention and Upselling. The frameworks for each of these areas are as follows:
Customer Acquisition – We obtained third party data from the sister companies of our client that gave us mobile wallet and health and wellness subscription data. With this we Identified categories that closely relate to the Insurance sector and tracked customer spending across these categories. There are also different customer segments and region-based Information available which can be used to further drill down and create segment or regional level campaigns.
Customer Retention – We focused on customers who haven't paid their policy premiums for the current term. We also created filters based on number of times a customer skipped on paying premiums in the past which helps in risk identification. With the mobile wallet data, we Identified customers who carry sufficient balance to pay for their premiums thus helping in running collections.
Up sell – Upselling using analytics is a much harder problem in Insurance as the premiums go significantly higher when a customer upgrades their existing product. The key then is to make sure the product is specifically targeted at customers who can afford it. We came up with a solution where we calculated costs associated with upgrading to a higher premium product which was inclusive of addon and dependent premiums. With our third party data we then Identified customers who can afford to upgrade based on their last 90 days wallet balance information.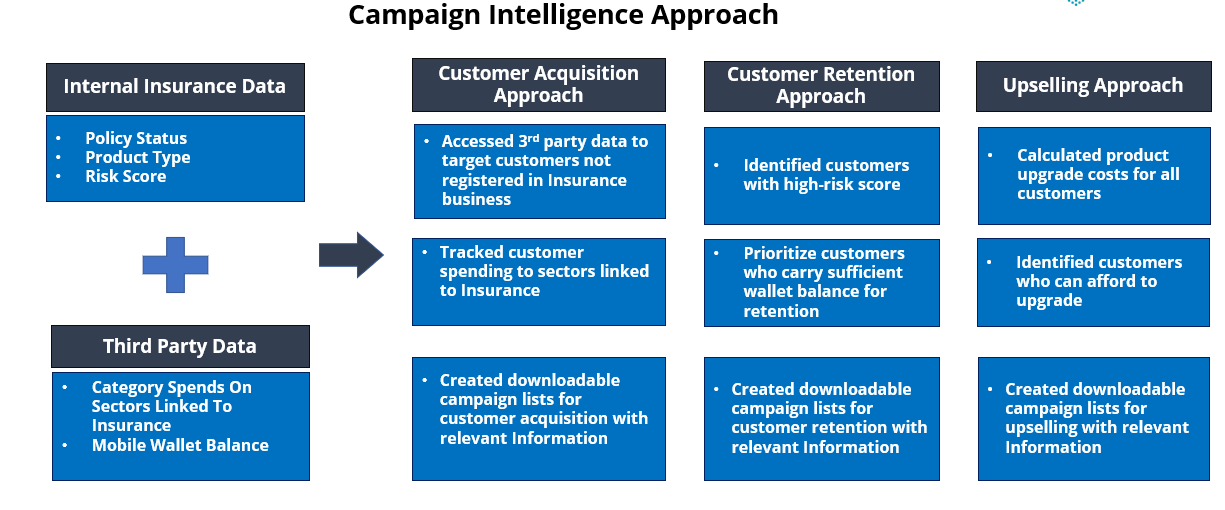 Outcomes
Focused Targeting – With our relevant acquisition target lists, we reduced campaign costs and increased the acquisition rate by 4%.
Increased Retention – We also increased our retention rate by 3.5% by targeting customers who are profitable and have a relatively high-risk score.
Upselling – We successfully moved 5% customers from lower priced products to higher priced products with our upselling solution which resulted in a revenue gain of 7% in the premium products category.
Boost customer engagement and experience with Revenue maximization solution