Are You Measuring Business KPIs Across Cell Sites?
Spurred by the limitless possibilities of wireless cellular technology, telcos are at inflection point, betting big on data. However, dark clouds loom over operational excellence threatening to spoil the opportunities. Revenues, technical dimensions are often the only KPIs used by telcos for performance metrics. ARPU, churn, subscriber acquisition & growth, and multiple KPIs from NOC pertaining to network quality are metrics relied upon for performance evaluation. However, the all-important cell site KPIs from a business point of view that offer hyper-awareness for achieving operational excellence are often ignored.
Cell sites, virtual final touchpoints of end users, offer telcos a ringside view of subscribers. Ericsson's Mobility Report reveals that mobile broadband services[1] will account for 95% of mobile subscriptions by 2024. . Interestingly, usage metrics from cell sites reveal a clear distinction, and are not the same among all users. For instance, subscribers in an industrial area are unique, with more smartphone users and 4G handsets. With routine use of video streaming and conference calls on smartphones, the amount of data used by subscribers in such cell sites are higher. Contrastingly, the DNA of a rural cell site will be characterized by feature phones/basic handsets, with more SMS and voice calls. By extension of cell site statistics, traffic and usage will also differ—in industrial areas, traffic will peak during working hours, whereas in residential areas, the spike in traffic is in the nights.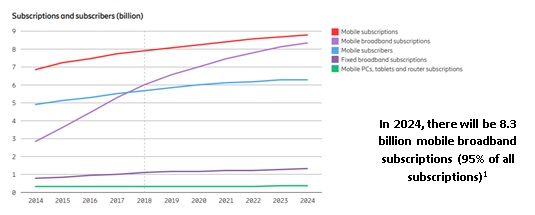 The Forrester report, Drive Revenue with Great Customer Experience, 2017, pinpoints an area that requires policy correction for telcos to achieve better customer experience. The report highlights that telcos need to improve the worst experiences of subscribers rather than working on enhancing experiences that are already satisfactory/good[2]. For instance, an operator in Kenya, roped in Subex for Cell Site Intelligence[3] to identify potential sites for upgrading to 4G sites. The company intended to upgrade one fourth of its cell towers, but had little direction on choosing sites that would offer the best ROI and customer satisfaction. Cell Site Intelligence analyzed the 4G handset density and identified sites that had the highest potential with assurance of high ROI. The informed decisions helped the telco to roll out upgrades with the best outcomes.
Telcos grapple with outages in cell sites routinely, facing issues in multiple locations simultaneously, stretching resources. Network maintenance and resolution issues can no more be binary, there is a clear need to prioritize problem resolution. Networks used for critical applications and cell sites that generate higher revenue need faster problem resolution. Analytics helps telcos identify locations where network needs to be restored on priority.
Advanced analytics helps identify home and work cell sites of users accurately. This gives telcos with the ability to map high-value customers and geographical locations, helping telcos work towards revenue gains and additional revenue streams. While this option is presently also available in browsers, analytics depend on user login. In the case of cell sites analysis, user login is not required, and mobile handsets are mapped accurately across various parameters, to create a heat map.
Despite spectacular advances in technology and wireless standards, telcos lack integrated analytics and KPIs. The siloed operations, where data and analytics are never correlated fail to create the big picture or the critical thinking ability. The measurement of cell site KPIs unifies data from disparate sources, offering teams information that enables operational excellence.
Telcos need to contend with multiple challenges to strike it rich in an era of opportunities. The need to continually add capacity, upgrade infrastructure, technology, and handle an expanding customer base comes with additional challenges, that evolve with requirements. Cell site KPIs are slowly turning into a non-negotiable dimension to arrest churn, boost customer experience and help telcos achieve the best ROI and the competitive edge.
To know more about our solution, schedule a meeting with one of our expert.