D-Partner unchained with Blockchain in the 5G era
If you have to identify the most important element of the telecom ecosystem in the 5G era that can fuel multi-fold growth for operators, what it is going to be? If you ask for my answer, it's D-Partner (The Partner).  Let me explain how the partner will play an important role in setting up a successful 5G ecosystem.  I will cover two aspects here:
1. Why and how partnerships can only fuel success in 5G?
2. Blockchain – How it brings digital trust in data exchanged between partners?
The Potential that 5G holds
5G ecosystem will give rise to a big parallel ecosystem of partnerships. A successful rollout of 5G will need collaboration between many partners who will fulfill different gaps in the ecosystem and eventually deliver the 5G promises. As the ecosystem develops, Telcos are expected to focus beyond just connectivity towards collaboration across the telecom value chain and different sectors, leading to the creation of new and innovative business models.
This is the right time to unchain and unleash the power of partnership and empower the partners to build a strong ecosystem to realize the true potential of 5G.
Different partners that telco need to collaborate can be broadly classified into below categories:
Suppliers (Infrastructure, Software Vendors, Innovative service providers, etc.)
Aggregators
XVNO*
Sales & Resellers
Enterprise Partners (Enterprises in Healthcare, Smart Cities, Banking, Manufacturing, etc.)
*XVNO=MVNO, IVNO(IoT-VNO), etc. Anyone can take a Network Slice and run innovative services on it. IoT has a big future on 5G platform and hence IoT-VNO.
All these partners will build a strong ecosystem to deliver the best result to end consumers, be it in B2C or B2B space. Delivering value will no longer be a play of the centralized entity, instead, this will be a decentralized ecosystem in which delivering value and the trust will be dependent on multiple entities/partners i.e. the trust itself will be decentralized. The below diagram clearly highlights how much decentralization is important going forward.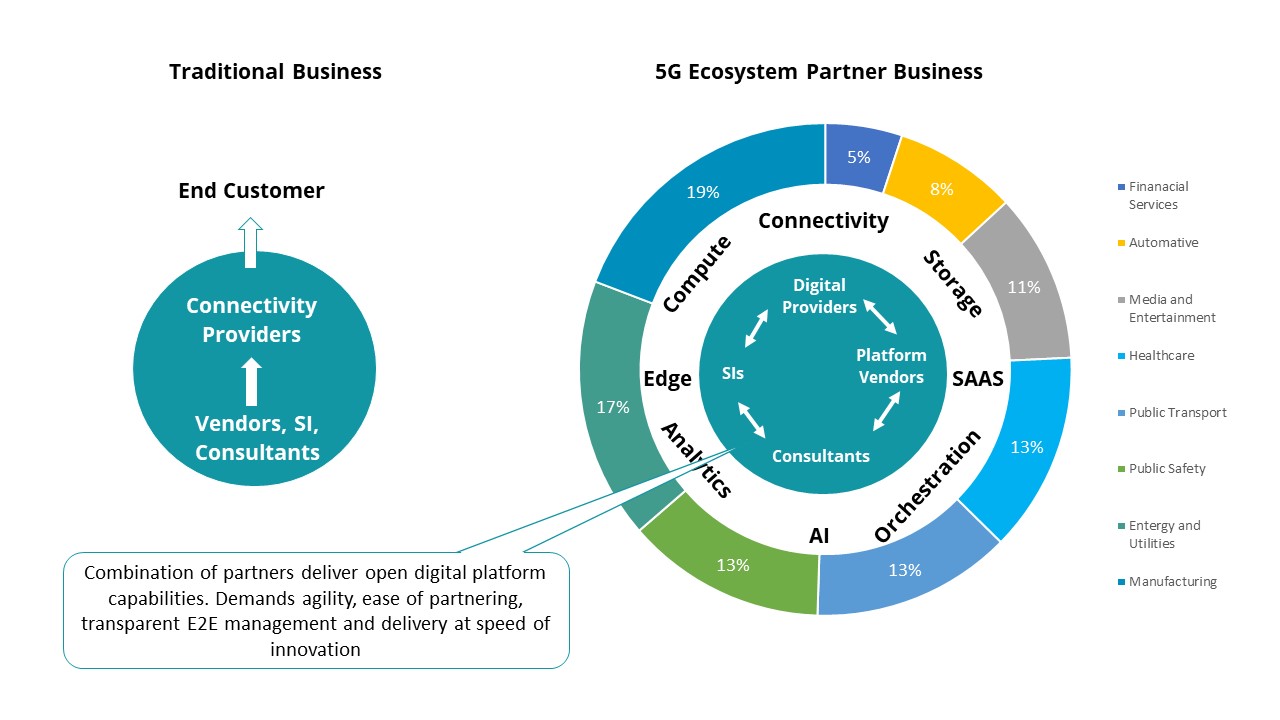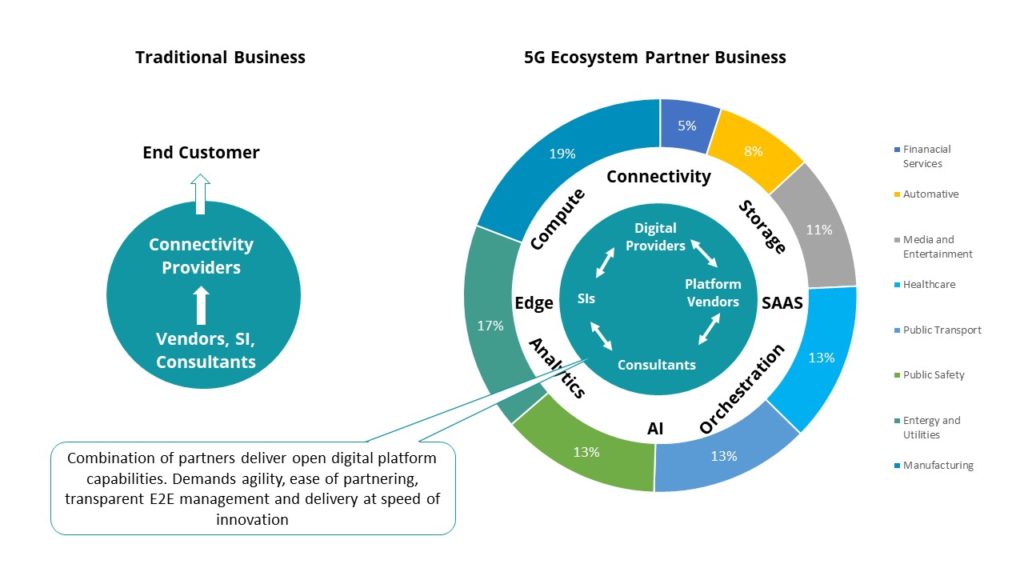 Creation of a Trusted Decentralized Ecosystem to Deliver Value
All these partners will be connected with different economic models to do billing and settlements. In the 5G ecosystem, SLA & QoS based economic models will be the key factor for all the billing and settlements. SLA & QoS is the key factor for 5G to be reliable, which will add a new parameter to the equation of billing and settlement which is currently transactional in nature. The 5G value chain will be dependent on many of these partners playing different roles at different points and all or related ones, are interconnected with cascading SLA's & QoS.
Having cascading SLA's and with its dependency on multiple partners, who will deliver and ones who will consume the same, the need for a transparent & trustworthy environment becomes the key, which can:
Update the SLA's and delivered QoS to all relevant and impacted touchpoints in ecosystem
Rating the services of each partner based on delivered SLA's and QoS as agreed in the contract
Compare and alert SLA breach based on the contracts with each partner in ecosystem
Help in addressing disputes in near real-time, hence avoiding conflicts during payments and settlements
Each of the above points translates to:
Near real-time updates in a connected the ecosystem
Near real-time contract monitoring
Triggered events based on contractual models
And above all, creation of a trustworthy the ecosystem
Blockchain = Collaboration + Cryptography + Smart Contracts = Decentralized & Trusted Ecosystem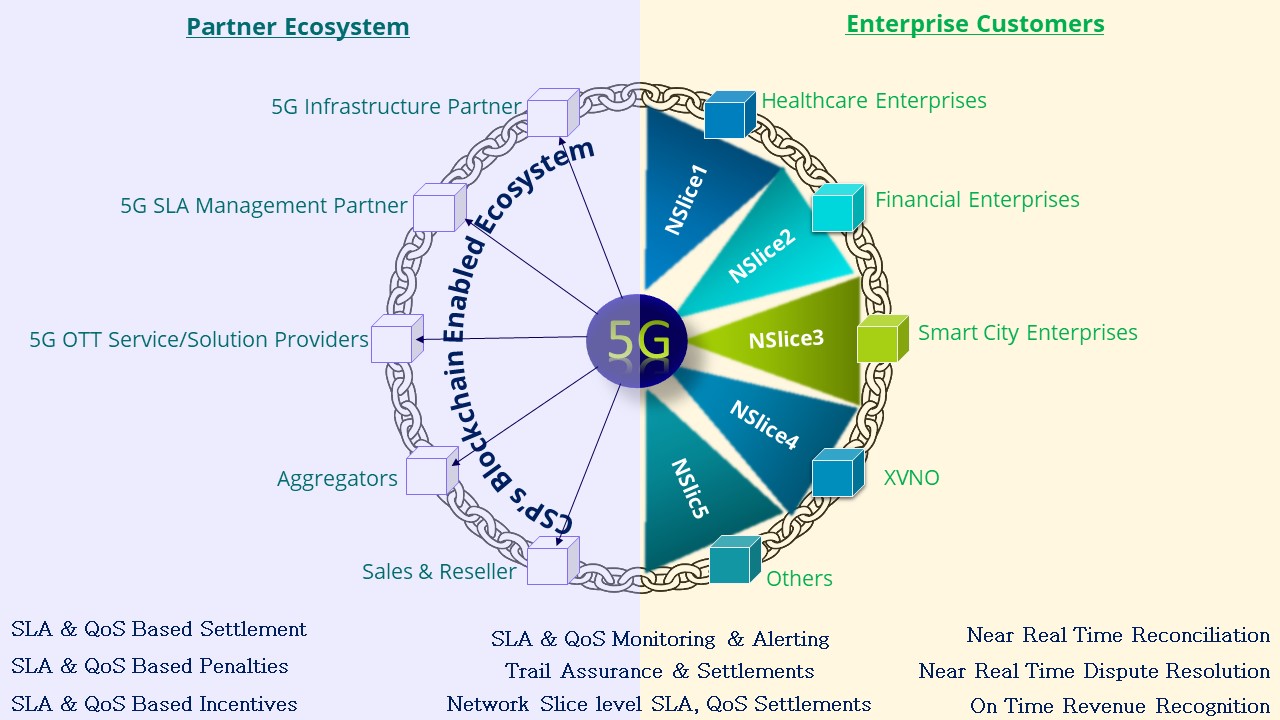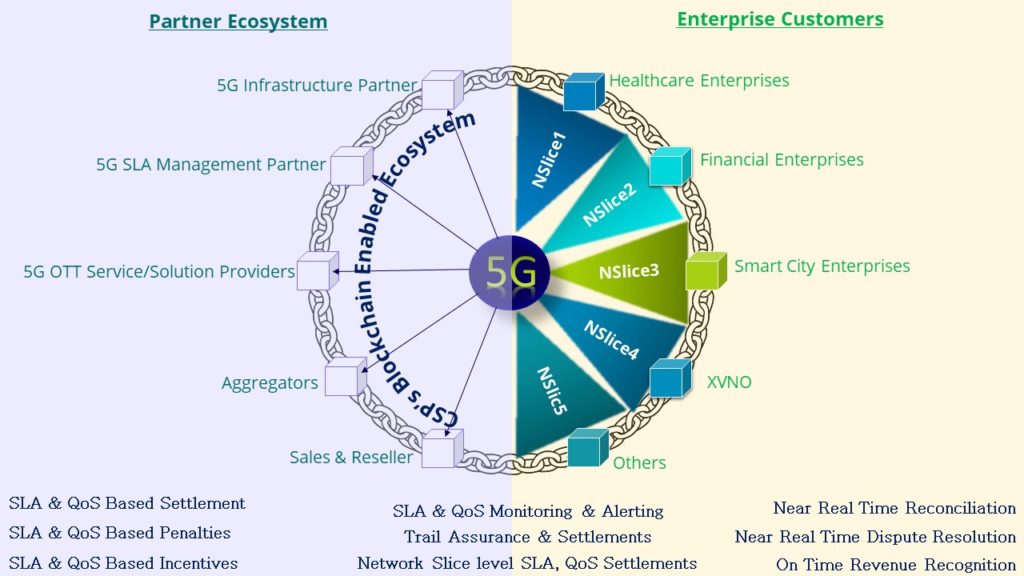 The above diagram depicts how a decentralized setup will look, with multiple partners working towards building a reliable & connected ecosystem delivering the required SLA/QoS.
For now, I leave you with this thought process and will get back to you on how we can wrap this overall decentralized environment with an E2E Partner Lifecycle Management system and its importance.
The Decentralized Way Of Digital Partnerships