Un rebobinado de la evolución de 1G a 5G
De 1G a 5G
El viaje de 1G a 5G parece reciente y el tiempo realmente ha volado. Por medio del blog a continuación, he intentado proporcionar un resumen rápido del viaje y cómo nos fue.
Hacia el final, también puede ver el impacto de los ingresos en unas pocas empresas de telecomunicaciones seleccionadas cuidadosamente de todo el mundo con la evolución de cada generación de telecomunicaciones.

"Fue FENOMENAL pero no fue suficiente".
¿Qué pasó aquí?
El ingeniero Neil Papworth envió el primer SMS el 3 de diciembre de 1992, cuando escribió "Feliz Navidad" en una computadora y lo envió al teléfono celular del director de Vodafone, Richard Jarvis.
Inicio de la tecnología AMPS (Advanced Mobile Phone System) a partir del IMPS (Sistema de telefonía móvil mejorado) preexistente para la transmisión de voz.
La conectividad estableció una conectividad móvil fluida que introdujo servicios de voz móviles.
1G introdujo la voz analógica.
¿Qué salió mal?
Mala calidad de voz
Poca duración de la batería
Teléfono de gran tamaño
Sin seguridad
Capacidad limitada
Poca confiabilidad
El impacto en los ingresos:
En 2018, casi 300 millones de personas se conectaron a Internet móvil por primera vez, lo que elevó la población total conectada a más de 3.500 millones de personas en todo el mundo. Los ingresos no experimentaron un aumento drástico para los operadores, especialmente en los segmentos de nivel 2 y 3, ya que los consumidores exigían una mejor conectividad, mayor capacidad y menor latencia. Esto solo lo podrían permitir los operadores de nivel 1, que simplemente podían permitirse derrochar en la mejora de su red.
Era 5G 2019 y más allá:
"5G es más que una generación, es una promesa al país de las maravillas"
5G nos mira con una nueva experiencia en velocidades de datos más rápidas, mayor densidad de conexión, latencia mucho menor, entre otras mejoras.
5G no es una actualización a 4G, pero está en una liga propia, porque nos brinda la capacidad de conectar miles de dispositivos a la vez, lo que brinda al usuario la verdadera sensación de experiencia en "tiempo real".
Esto significa que la informática y el procesamiento pueden pasar a la nube y dar como resultado dispositivos de IoT más pequeños, lo que reduce el costo de fabricación y mantenimiento al optimizar la red para el operador de telecomunicaciones.
IoT tendrá un significado muy diferente con el crecimiento de 5G, ya que los vehículos autónomos pueden convertirse en una realidad incluso en India.
Dado que el aumento de la base de suscriptores en las ciudades de nivel 1 ya no es una perspectiva atractiva para las empresas de telecomunicaciones, buscarán generar nuevos flujos de ingresos con la madurez de MU-MIMO y lograr velocidades de datos de hasta 35 Gbps.
La tecnología 5G puede utilizar una variedad de bandas de espectro, incluido el espectro de radio de onda milimétrica (mmWave), que puede transportar grandes cantidades de datos a corta distancia.
La tecnología móvil 5G puede marcar el comienzo de nuevas experiencias inmersivas como la realidad virtual y la realidad aumentada con velocidades de datos más rápidas y uniformes, menor latencia y menor costo por bit.
5G puede habilitar nuevos servicios que pueden transformar industrias con enlaces ultra confiables, disponibles y de baja latencia, como el control remoto de infraestructura crítica, vehículos y procedimientos médicos.
Aquí hay algunos casos de uso revolucionarios que traerá 5G:
Alimentando la agricultura de precisión: incluso el algodón que se encuentra en un vestido simple usa 5G.
Habilitar una conectividad IoT inalámbrica confiable en los centros de transporte
Esencial para los vehículos autónomos del futuro con V2X y logística inteligente a nuestro alcance.
Para colaboraciones más estrechas en el lugar de trabajo utilizando información en tiempo real y XR.
Ofrecer al consumidor experiencias de compra personalizadas virtuales inmersivas en cualquier lugar.
Impulsando la próxima revolución industrial con fabricación flexible con ejecución guiada XR, vigilancia inteligente, visibilidad de la cadena de suministro en tiempo real usando blockchain y mantenimiento predictivo.
Con seguimiento de activos en tiempo real y entrega eficiente mediante drones.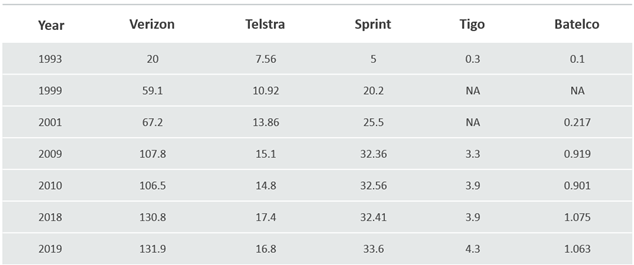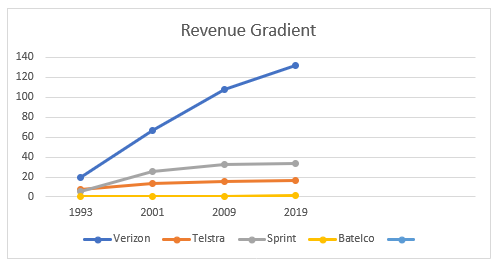 Valor de ingresos representado en millones de USD
Referencias:
https://www.statista.com/statistics/226065/global-mobile-subscriber-forecast/
https://www.sciencedirect.com/topics/engineering/advanced-mobile-phone-system
https://mse238blog.stanford.edu/2017/07/ssound/1g-2g-5g-the-evolution-of-the-gs/
https://www.gsma.com/aboutus/history
https://www.itu.int/en/ITU-D/Documents/WTDC_1994_FINAL_REPORT.PDF
https://www.itu.int/ITU-D/ict/publications/wtdr_99/material/wtdr99s.pdf
https://www.itu.int/dms_pub/itu-d/opb/ind/D-IND-WTDR-2006-SUM-PDF-E.pdf
https://www.qualcomm.com/media/documents/files/download-the-evolution-of-mobile-technologies-1g-to-2g-to-3g-to-4g-lte-qualcomm.pdf
https://www.qualcomm.com/invention/5g/economy
https://www.qualcomm.com/invention/5g/what-is-5g
https://www.igi-global.com/chapter/evolution-technologies-standards-deployment-networks/17444
http://protei.me/blog/telecom-news/the-mobile-wireless-communication-technology-journey/
Informes de ingresos anuales oficiales:
Verizon: 1993-2019
Telstra: 1993-2019
Sprint: 1993-2019
Batelco: 1993-2019
Tigo: 1993-2019
Chief Operating Officer  (Director de operaciones)
Shankar es el C.O.O, responsable de Ventas, Marketing, Ingeniería y Entrega. Aporta cerca de dos décadas y media de experiencia en Telecomunicaciones, Cloud y PaaS. Tiene una amplia experiencia internacional y capacidad para escalar negocios en entornos competitivos, particularmente en el espacio SaaS. Shankar se unió a nosotros procedente de Plivo, donde era el Jefe de Crecimiento. Tiene un título en administración de IMDR Pune, con una especialización en ventas y marketing con especialización en sistemas. Es licenciado en Ingeniería Electrónica de Telecomunicaciones y licenciado en Triple Matemática.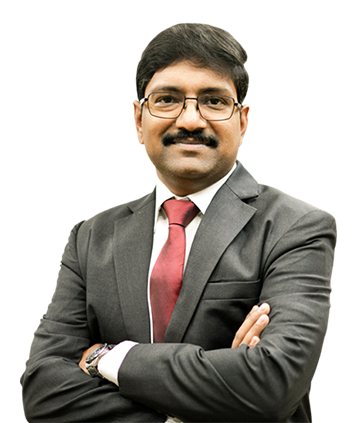 Chief Operating Officer
Shankar is the C.O.O, responsible for Sales, Marketing, Engineering & Delivery. He brings close to two and half decades of experience in Telecommunications, Cloud and PaaS. He comes with extensive international experience and ability to scale businesses in competitive environments, particularly around the SaaS space. Shankar joined us from Plivo, a Y- combinator company where he was the Head of Growth. He holds a Management degree from IMDR Pune, with a specialization in Sales & Marketing with minor in Systems. He is an undergrad in Electronics Telecommunications Engineering and is a graduate in Triple Mathematics.