The 5G Series: Broadband for All – Disrupting Broadband Connectivity with 5G FWA
The challenges brought on by the COVID-19 pandemic have increased digitization in our lives and our reliance on high-speed internet like never before. With the emergence of 5G technology, home internet connections are now at the cusp of a new transformation – one that is wireless and promises unparalleled high-speed network connectivity. In this blog, I want to explore how 5G FWA (Fixed Wireless Access) will enable broadband connections of the future.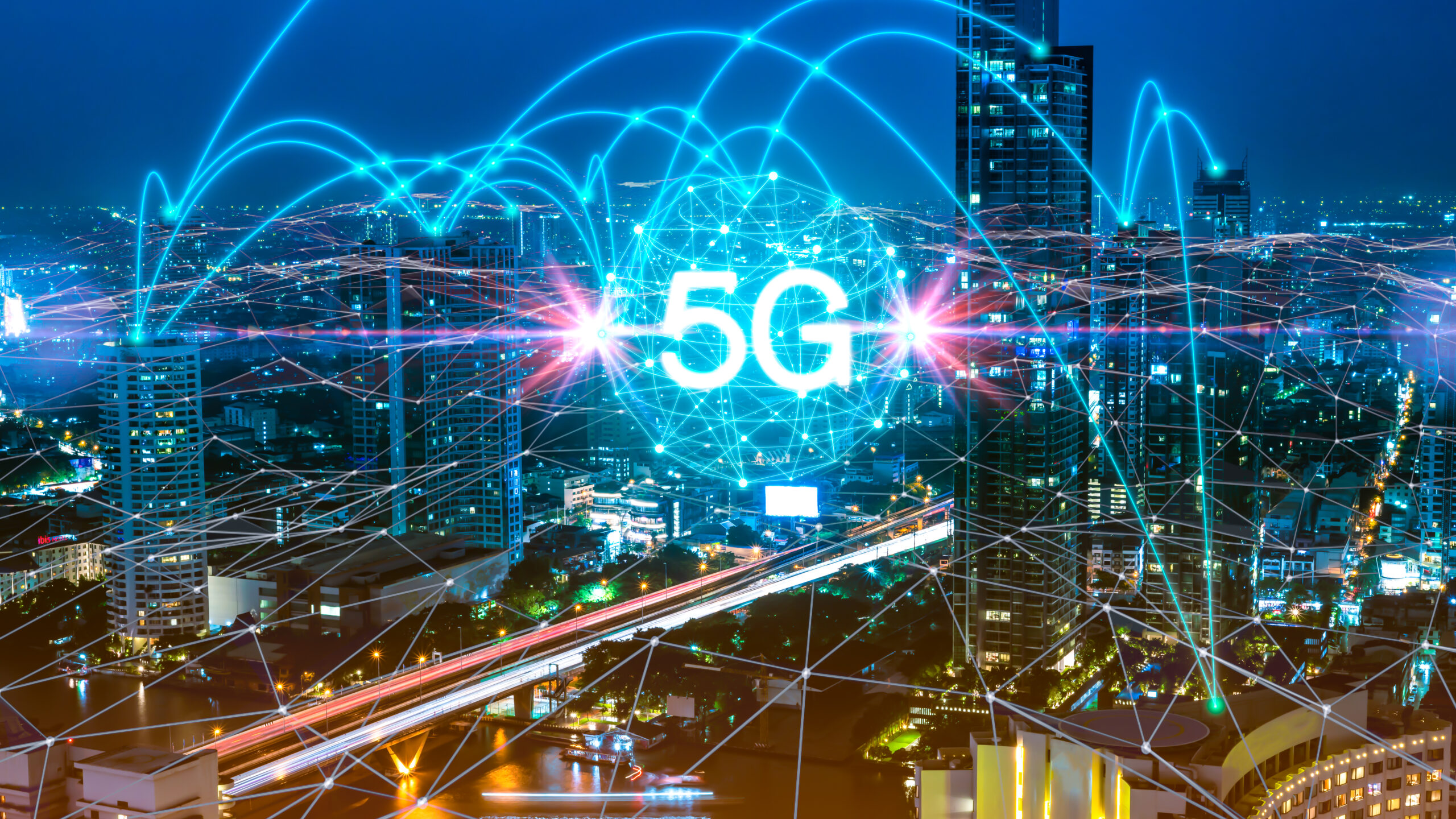 What is 5G FWA and how does it benefit operators?
5G FWA (Fixed Wireless Access) is an enhanced mobile broadband (eMBB) use case of 5G in the hybrid (high/mid/low) electromagnetic spectrum bands for wireless communication. 5G FWA can be used to deliver a superior customer experience quickly and economically. It can be a strong alternative to wired broadband. In the millimeter wavelengths (mmWave), 5G FWA can provide ultra-high bandwidth to deliver heavy content at significantly faster speeds.
5G FWA (Fixed Wireless Access) allows telecom operators to deliver broadband internet services in areas where fiber or fixed internet lines are absent. The technology relies on mobile components to deliver internet services to customers. Even today, many households do not have a fixed broadband connection. Operators can use this technology to expand their revenue stream by catering to residential markets in rural and remote areas where it is hard to maintain fixed internet lines.
5G FWA: An exciting new opportunity for telco revenue 
Over the last decade, total global telecom operator service revenues have been quite flat, and operators have been under tremendous margin pressure. Many operators are struggling to find top-line growth. With the rise in the usage of high-speed applications, gigabit speeds have become a new benchmark for consumers. 5G FWA provides operators a unique growth opportunity to capture new revenue while improving their 5G business case with bundled services. As per GSA's latest report on FWA (end of 2020), fixed wireless access broadband based on LTE is already available worldwide. CSPs clearly realize the potential.
Let us look at the below numbers:
423 operators in 166 countries are offering FWA services based on LTE (up by 5.5% as compared to their last report, published around mid of 2020)
Out of 120 telecom operators announcing 5G launches worldwide (till the end of 2020), around 44 announced the launch of 5G FWA broadband services (up by 42% as compared to their last report)
From a device or more precise CPE (Customer Premise Equipment) perspective, 31 commercially available indoor and outdoor 5G FWA CPE devices are available (up from nine as compared to their last report).
These stats clearly establish that FWA is by no means a new phenomenon anymore.
Why is 5G FWA gaining momentum in the telecom industry? 
1. Capacity
Capacity is one of the fundamental and critical aspects for operators to digitize the mobile wireless ecosystem. 5G FWA in its current form will gain significant momentum as mmWave spectrum auction in various geographies by respective regulatory is executed. Operators will acquire their respective purchases of this massive bandwidth spectrum. The actual densification exercise will then accelerate, and the state of 5G FWA deployments will revolutionize the way consumers access broadband services.
2. Performance
In the ongoing pandemic, the pressure on traditional broadband service providers significantly increased to maintain consistent network performance. Simultaneously, the growing global popularity of online gaming and video streaming has increased the demand for high-performance broadband services. This demand cannot be alone met with legacy xDSL or cable. 5G FWA is destined to make this landscape increasingly competitive. This is just the beginning, as the change in consumer behavior witnessed during the pandemic will lead to introducing new types of 5G services. FWA is seen as a good opportunity for additional revenue streams.
3. Cost
With the massive bandwidth of mmWave and superior spectral efficiency of 5G, the network cost (cost per/bit/hertz) can be dropped immensely, provided the 5G FWA rollout is planned accurately to enable superior customer experience and new business cases. Cost efficiency will help CSPs deliver OTT services such as TV/video streaming today to households and AR/VR services in the future. This will not only enable CSPs to capture new revenue but will also help them improve margins.
Strategies to launch 5G FWA
In the past, those who have had a not-so-successful experience of deploying FWA based on WiMAX or earlier technologies may have some questions, like, what is different this time? And why 5G FWA could be a game-changer? Here are the key aspects to consider from a network and a business perspective.
– From a network perspective, spectrum assessment (in the low band, mid-band, and mmWave band) with respect to cost vs. capacity in the targeted FWA area calls for an intelligent approach. If planned accurately, it can ease out the capacity challenges and cost of FWA rollout. Key considerations in this direction are:
Precise understanding of the current state of the network in terms of capacity utilization, installed licenses and software, spectrum availability, and current system load.
Accurate forecasting and understanding of future demand and a priority-based rollout plan to add new small cells, macro-cells, carriers, etc.
mmWave, massive MIMO, and beamforming will be the integral factors of 5G FWA to boost capacity and speed, but the radio propagation characteristic will pose many planning challenges. Operators will need domain-based data science models to simulate and perform multiple iterations and extensive tests before the final deployment.
– From a business perspective, there are three main opportunities for mobile-led operators to boost their financial performance:
Enterprise – A new revenue stream:

5G FWA in mmWave spectrum boosts the enhanced mobile broadband (eMBB) capabilities. Once enhanced and seamless services on 5G FWA have been delivered to consumers, Operators can leverage the critical best practices to extend the technology to the enterprise segment. The huge potential enterprise coverage will prove a great opportunity for operators to generate a new revenue stream on top of their existing broadband offerings for consumers.
Fixed Broadband vs. Wireless Broadband – A new battleground for CSPs: 

For mobile-led operators, household broadband is, to a large extent, an unaddressed market. By targeting this market with FWA, these operators can tap into a considerable pool of residential spending. The additional revenue streams that can be targeted are highly dependent on the operator strategy being pursued. Business-driven 5G FWA planning would be quintessential to compete with fixed broadband service providers.
Tapping the ocean of unconnected broadband ecosystems

With more than 50% unconnected households, a market that is extremely challenging for a traditional broadband service provider to serve mainly due to cost associated with last-mile connectivity opens a huge opportunity for 5G FWA deployments by mobile-led CSPs. In the current pandemic situation, the need for connecting rural areas has become more critical than ever before.
Key takeaways
5G FWA will not just be related to the network alone; it will need comprehensive and robust analytical capabilities related to planning, optimization, customer experience, and most importantly, business. As more operators upgrade their network to LTE-Advanced, and more 5G networks are deployed globally along with more CPE devices (mainly 5G) that are commercialized, it will just be a matter of time that the number of FWA services will rise.
5G FWA holds the potential to solve the problem of revenue growth for all CSPs. More importantly, 5G FWA brings in a unique capability to provide economic broadband services to everyone, a requirement that has now become a necessity or a commodity in every citizen's life.
To know more about how your organization can plan for 5G with improved accuracy and efficiency