Part 1: From Telcos to Tech-Cos: Carpe 'AI' Diem
A few years ago, if you were in India and visited any of the mom-and-pop mobile shops to buy a new SIM card, you would be presented with forms, asked to submit photocopies and a passport-size photograph, and to physically sign a document. Paperwork was then dispatched to another data entry center, an appointment date was set to verify your address, and after a few days of processing, your SIM was activated.
Today, the entire workflow takes a mere few minutes. First, you choose your number and your package. Then, present your Aadhaar, which is scanned using its QR code, snap a picture on-the-spot to verify it is you, validate your fingerprint with a nifty little biometric machine, and receive your new SIM, which is activated and ready to go.
At first, this scenario may appear like digitalization on steroids. But in fact, it is the organic shift of digitalization towards AI that enables intricate and differentiated experiences.
We are all in the business of technology.
Nearly every industry is brimming with examples of disruptive market trends driven by agile players. Think about the spate of acquisitions in the US where forward-thinking Japanese players bought out their lagging competitors who couldn't respond to change fast enough.
If we look at Tesla, a classic disruptor in the technology space, we can see how different their approach is. Their problem statement was not to build a car; it was to offer mobility, convenience, and safety. And they are eagerly curious to leverage the most cutting-edge technologies to achieve all of this. With the power of AI, they are pioneers in their own right in the autonomous driving and electric vehicle market and are leading the market although there were so many other companies prior to them who launched electric cars. They have also created a channel to resell their cars, unlocking a new revenue stream for the brand. Tesla is unafraid of change and is constantly reinventing itself, its products, and its models through the latest tech.
In 2015, Anand Mahindra, Chairperson of Mahindra Group, displayed sharp foresight when he tweeted, "The age of access being offered by taxi-hailing apps like Uber and Ola is the biggest potential threat to the auto industry."
And he was right.
Platforms like Uber, Lyft, Rideshare, Zoomcar, etc., have transformed the global automotive industry from being an ownership-driven one to on-demand mobility. It gave users budget-friendly travel options rather than simply buying a vehicle, thereby reaping multi-fold benefits: riders can save on down payments, EMI, parking fees, maintenance, depreciation, and more, while remaining mobile in the most convenient way. Similarly, the next generation of competition for telcos is not going to be from other telcos but from an army of digital enterprises offering a wide bouquet of services and experiences that customers are eager to lap up.
Everybody benefits.
It is crucial to remember that the power of AI lies not in simply digitizing a few workflows and automating processes for marginal efficiency gains. Instead, organizations realize the actual value of AI when they pan their sights outwards to visualize the entire operations landscape and reshape these, putting AI at the core.
With AI, we are seeing a mindset of openness and sharing, which is creating profound shifts within industries and needs to be highlighted because, more than competitiveness, companies know that collaboration is what steers success today. The market share for disruptive services is too large to be monopolized by a single entity. Instead, early AI adopters are nurturing holistic digital ecosystems where AI-led innovation facilitates interoperable infrastructure, effective billing mechanisms, transparent revenue sharing agreements, strong governance frameworks, and robust security protocols.
So, widen your AI lens.
Some forward-thinking telecom operators have jumped on the AI bandwagon to reach more subscribers through untapped channels and accelerate onboarding through frictionless, instant, and secure workflows.
Consider how T-Mobile is on a mission to build networks for the future. AT&T uses AI/ML to understand how climate change impacts service continuity. Telefonica leverages AI to craft immersive and intelligent living room experiences for movie watchers. Verizon 5G is grabbing the reins of Industry 4.0 by enabling smart factories through automated industrial machinery.
The use cases keep growing: AI technologies like natural language processing, face trace, liveness detection, and face match can greatly streamline governance by instantly validating ID proof against applicants and cross-checking authenticity. ML algorithms can mine data to understand customer preferences and personalize offers within seconds.
Here's an excellent place to start.
Go back to the beginning. Relook at your business problem statements as a whole, rather than its components, and ask yourself:
Where do redundancies lie, and how much can we eliminate?
Where are inefficiencies costing us, and how can we optimize productivity?
What are the highest cost drivers, and where can we use AI to slash this?
Is there an entirely new way of performing this process that leverages everything AI stands for?
The answers to these questions give organizations the key elements to probe AI's value beyond incremental gains. With so much innovation happening in the telco domain – think 5G, IoT, the metaverse – telcos must push the boundaries of their imagination. Indeed, AI helps telcos do one of two things:
1) Remain a telco that does better – They can use AI to improve the service stack, like faster broadband connectivity through 5G, and achieve incremental benefits from offerings like IoT packages to enterprises. Such point solutions will certainly deliver value like revenue and efficiency gains, albeit in a marginal manner.
2) Transform into a tech-co that disrupts the ecosystem – They can unlock boundless opportunities to do much more than previously imagined by crafting new journeys, curating new revenue streams, and taking pole position as an enabler driver than a follower of the AI revolution.
Which would you choose?
Note: This is a two-part blog series. Stay tuned for the second blog that dives into how telcos can reimagine AI.
Learn how augmented analytics can help transform your approach to enterprise AI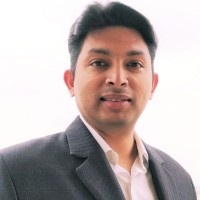 Arundeep is a Director in Subex's Business & Solutions Consulting Group and works with CSPs across the globe on strategies and solutions to leverage the power of Data, Analytics and AI to generate business value. As part of his current charter, he creates possibilities for enterprises to truly democratise the use of analytics and AI by capitalizing on the cutting-edge capabilities of Subex HyperSense.