Top Story
Subex announces Q3 FY18 Results
Subex Ltd, announces its financial results for the quarter ended December 31, 2017.



Read Press Release
Thought Leadership
Whitepaper - Leveraging Analytics to Address Five Anomalies to Improve your Business Performance
In the whitepaper, we identify the five different kinds of Anomaly Analytics: Social, Network, Individual, Operations and DaaS (Data-As-A-Service). We also highlight the various use cases where Anomaly analytics could be extremely useful in improving the performance of Telecom companies, and enumerate few of the algorithms that can be used for the identification of anomalies.



Download Whitepaper
Point of View - Real-Time: The Quintessence for Agile and Smart Networks
The Point of View highlights the steps of network transformation- How real-time demands of customers can be met by agile networks and the challenges telecom operators will face when they undergo this journey of network transformation from legacy to agile networks.



Download POV
Whitepaper - Origin Based Rating
Billing disputes have increased by 50% due to A number rating, which can further add to the declining revenues of Telecom operators from traditional services. How should Telcos approach this new business challenge? Subex understands the complexities of this problem based on interactions with operators across the globe and provides the new approach to overcome this challenge.



Download Whitepaper
Blogs

Smart NetEx decisions for improved Capital Efficiency and Customer Experience
Telcos need a holistic perspective for influencing network investment decisions to maximize customer delight and achieve business objectives.


know more


Digitalisation: Mirroring Opportunities with Reality: A Quick Recap of the Subex User Conference 2017
As most of you would probably know, we recently concluded the 14th edition of the User Conference, which took place on the 24th-25th of October 2017, in the beautiful city of Zagreb in Croatia.


know more


Awards Participated
Aegis Graham Bell Awards 2017
Subex was shortlisted in the Analytics and Managed Services Categories. The awards will be announced on 23rd Feb 2018. Here is a video featuring Prasad Savadi at Aegis Graham Bell Awards.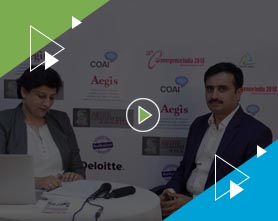 ---
Upcoming Events

Subex at Mobile World Congress (MWC) 2018
Subex will be participating at this year's MWC, showcasing its capabilities in helping CSPs make the hype of digitalization a reality.
Meet Subex at the Mobile World Congress 2018 to understand how we can help telcos 'Connect the Dots' of their digital transformation endeavors, through our Advanced Analytics and IoT Security.


Schedule a Meeting


RAG Sydney (30-31 January 2018)
Andy Jacobs from Subex will be presenting on the topic of "Handset and Device Assurance" at RAG Sydney which will be held on the 31st of January 2018. Andy's presentation will cover the comprehensive device assurance strategy telcos need to implement.


Know More


CFCA Winter Educational Event 2018 Las Vegas (6-8 February 2018)
John Brooks of Subex will be presenting at the CFCA Winter Educational Event 2018 in Las Vegas, on the topic "Handset Fraud: The Next Dimension for Risk Mitigation and Opex Optimization" on the 7th of February 2018. John's presentation will cover drivers and strategies for establishing a handset fraud program.


Know More


Past Events
Subex at AfricaCom 2017
Subex participated AfricaCom which was held on 7-9 November 2017. Subex showcased its Capabilities in Analytics and its Managed and Consulting services offering.



Read More
Subex at Telco Data Analytics - USA
Subex was an exhibitor and speaker at Telco Data Analytics USA which was held on the 28th and 29th of November 2017. The Topic presented at this event was "The Trifecta of a Customer Analytics Approach".



Download Presentation